Film Transfer to DVD or HD Digital mp4 (Flash Drive)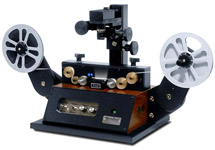 FACT: Half of all movies made before 1960 are gone!
Don't let this happen to your old films –
Let Us Transfer Your Films to Digital or DVD Today!
Audio Video Workshop now offers full Frame-by-Frame High Definition Film Scanning. We can transfer 8mm film, Super 8 film, and 16mm film  Every frame of your Home Movies is cleaned, repaired and Scanned in High Definition (1920x1080p). We can Enhance the color and exposure of your 8mm films or give it to you raw. Unlike camera shops in big box stores, our film transfers are done in house with the New RetroScan Universal 2K Mach I Film Scanner. Every frame of your film is individually scanned directly with an 2K camera using a CMOS sensor and 2 million pixels! The enlarged gate on the scanners give us access to 100% of the film frame. Using a super bright and cool LED light source, we are able to provide rich vibrant colors with zero hot spot and no chance of burning your film.
We can transfer your home movies to HD Digital mp4 (50mb/s) and put it on a Flash Drive or Hard Drive. These files can be played anywhere (MAC, PC, Smart TV, etc..) They are the highest quality and are editable on just about any computer. We can also transfer your films to DVDs and Blurays as well. The results are simply amazing! Please check out some recent samples below and see for yourself!