Video Editing Services – SF Bay Area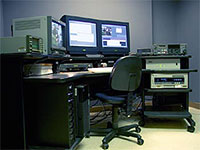 Audio Video Workshop specializes in digital video editing. We are equipped with two real-time editing suites that are capable of 2D motion graphics and visual effects. We can take your source footage from any format edit, composite, publish, compress, convert, duplicate, print and package it to any format to play anywhere in the world! No job is too big or too small. Call us today to begin your next project! We charge $125 per hour + export. Please take a look at some of our recent work below.
COMPANY PROMO VIDEO
SAFETY TRAINING VIDEO
LEGAL VIDEO SERVICES
FAMILY VIDEO SERVICES
Pigeon Point Lighthouse – Documentary
Linda Parnassus spent many hours with the AV Workshop team editing the restoration of the pigeon point lighthouse video which included 2D visual effects, compositing, voice over and digital video editing. Take a look at the final product.
Ashish's College Application Video 
AV Workshop videotaped Ashish in studio and edited together photos and various video clips to produce a college application video for Ashish to submit with his written application. The video came out great! Please take a look.
Cassidy Turley – Opening Remarks 2014 (corporate video shoot and edit)
Cassidy Turley has hired Audio Video Workshop for several years to video tape and edit together their annual Real Estate Forecast. This year we edited together power point slides and other material to recreate the event for viewers / clients who could not make it. Take a look at a quick opener on the right.
DePaul Urgent Care Center – Medical News Release
AV Workshop created this Medical News Release video for the DePaul Urgent Care Center in Morgan Hill. HD Videography, Voice over narration, and HD digital video editing was all done by AV Workshop of Redwood City in the San Francisco Bay Area. This video was shot and edited to inform the public about potential health risks for the summer months.
Seton Medical Center – Medical Company Promo
AV Workshop created this Medical company promo video for Seton Medical Center of Daly City. We interviewed various staff members using High Definition Video Cameras, lights, mics and edited to music here at AV Workshop of the SF Bay Area.