Convert Video to mp4 Digital Files
We Convert VHS, Hi 8, Mini DV, Betamax & VHS-C tapes to mp4 (h.264)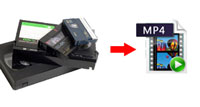 Audio Video Workshop can digitize your video tapes to high quality mp4 files. Mp4 digital video files offer excellent quality yet the file size is approximately half of uncompressed AVI and Quicktime files. Also, mp4 files are very compatible. Therefore, mp4 files can be played or edited on both MACs and Windows computers. Furthermore, they are the recommended digital file type for uploading to video sharing sites like youtube, vimeo, facebook, etc… In addition, most smart TVs and media boxes / media players (such as WD TV and Apple TV) require mp4 files. As a result, you can plug your hard drive (or flash drive) right into the smart TV USB port and watch your home movies instantly.
By having AV Workshop transfer your video tapes to mp4 files, you can edit your videos on any computer (MAC or PC). Since mp4 video files have become the most popular digital video file, just about any video editing applications will import them. Therefore, you can edit mp4 files in software such as iMovie, Windows Movie Maker, Adobe Premiere, Final Cut, Sony Vegas, etc…
Use the Shopping Cart below to Get an Estimate or Place an Order
Already placed your order? Click Here to learn how to prep your media for transfer at AV Workshop (if possible)
Video to mp4 File
 

$39 per tape 
1 Tape (up to 2Hrs) transferred to mp4 (10mb/s)
– Watch anywhere (Smart TV via USB, MAC, Windows)
– Editable on any Computer
– HD upres 720 60p Now Available!
Buy 10-24 at $37.05 each
Buy 25-49 at $35.10 each
Buy 50-99 at $33.15 each
Buy 100 or more at $31.20 each
*please note:
– HDV, Betacam SP, 3/4″ U-matic, DVCAM, & DVCPro tapes are an extra $15 per tape
– Due to the labor required to play and check tapes for content, there will be a flat fee of $10 for tapes that are blank
Mp4 Advantages over DVD Discs
Digital Mp4 files have many advantages over DVDs. Especially the mp4s that AV Workshop makes.
Mp4 files can be played on any computer (MAC or PC).
Mp4 files will play on Smart TVs from a USB device or network.
Mp4 files allow for better quality than DVDs.
Mp4 files created by AV, can be edited on any computer.
Mp4 files are YouTube, Facebook, Instagram and web friendly.
Since mp4 files are a file and not a tape or disc, they will not degrade over time and are not reliant on a disposable player.
Mp4 files be shared with family members easily via USB devices, Dropbox, Google Drive, etc…
MP4 files can be uploaded to a FREE (private) Youtube channel where you decide who can view them.
HOW IT WORKS:
You can Walk-in to our Store or Order Online
If Ordering Online – Enter the amount of tapes you have
Choose Resolution (Original or Recommended HD Upres which looks Amazing)
Select if you need a Drive or will be providing your own
Decide if you want to add playable DVDs to your order (1/2 price $15 each)
Add to Cart / Check out
Prep your media for transfer (if possible)
Ship your tapes to AV Workshop
We will number each tape (in order by date where poss) and digitize them into files
The files will be named Tape 01, Tape 02, etc… (you can rename them later if needed)
We inform you that your project is ready or ship you your new Digital Files on a USB Flash Drive or Hard Drive, and original tapes
You plug the drive into your computer and enjoy your videos all over again!
These files can easily be edited on a MAC or PC with iMovie, Windows Movie Maker, Adobe Premiere, etc…
These files are compatible with Youtube, Facebook, etc…
*If ordering DVDs as well, please attach a sticky note to each tape for label info or just include a note – label info: same as tape
Organize your tapes in the order you would like them to be in. Typically, people organize by date where possible.
Label your tapes by number with sticky notes or labels. The number you label the tape as will be the number the file is labeled as – this way it is easy to find which file is from which tape!
If you have different forms of media (e.g. film and videotapes) be sure to label them separately. For example, if you have 10 videotapes and 10 super 8 reels – label the video tapes 1-10 and the film 1-10. If you want to take the extra step, it's also helpful to separate the different forms of videotapes. For example, if you have both Hi8 Tapes and VHS tapes, you could separate these formats out and label them separately. This helps your media to be as organized as possible on your flash drive or hard drive.
If you are providing your own flash drive or hard drive, include it with your order. Keep in mind that 1 hour of video = ~6 GB. About 140 hours of video (mp4 format) will fit on a 1 TB drive. Please make sure the drive has enough storage space and can be formatted NTFS or is already formatted NTFS.
*Note: Formatting will erase everything on your drive so if your drive is not formatted NTFS and has files on it you would like to keep – do not use that drive for your video transfer.
Not sure how to organize / label your media? Click Here
Not sure how to format your drive? Click Here
Our Video to mp4 file Transfer Process:
Professional Commercial Grade Tape Decks equipment used
Video Stabilized with TBC (Time Base Corrector) corrects wavy or jittery video signals
Luminance (Light) & Chrominance (Color) separated during Transfer Process – Results in Sharper Detail
Audio Level Optimization & Noise Reduction applied to audio
mp4 – High Quality / Compatible on both MAC & PC for Playback & Video Editing
Given that we use professional video equipment and the fact that we have an array of decks and machines, our video transfer quality is far superior to other businesses as well as if you attempted to do it on your own. Furthermore, we stabilize your video signal by running it through a TBC time base corrector using S-Video lines which separates the luminance (light) from chrominance (color). As a result, the edges of the detail in your video clip will be as sharp as possible. As soon as the video is transferred into our computers, we optimize the audio levels as well as apply digital noise reduction so your videos will  look and sound as good as possible and will be there for generations ahead!
We can transfer / convert VHS-C, Hi8, D8, 8mm, Betamax, DV, mini DV, DVCAM, 3/4″ Umatic SP, Betacam SP, HD, HDV and VHS!
Recent Video to mp4 Transfer Project
100 Hours of the Norcal Seafloor Archived to HD mp4 files!
A national scientific research agency recently entrusted AV Workshop with the task of digitally archiving over a hundred hours of local deep dive ocean MiniDV tapes. The research agency not only wanted to archive and preserve this content for the future, but they also wanted the best possible quality so they could analyze the sea-life of the Northern California seafloor. AV Workshop's Video to mp4 File Transfer with HD Upres was the perfect solution.
The native format of these MiniDV tapes were Standard Definition 720x480i (interlaced 30fps). Interlaced video was meant to be played back on an old tube TV where each frame actually contains 2 fields (odd and even) that blend through each other. However, we no longer have interlaced TV screens or monitors. As a result, by having AV Workshop upres the videos to 1280×720 we can make each field a frame. Thus, the new mp4 files are now 60p resulting in smooth motion and sharp detail!
Moreover, 720 60p is a standard HD format that will play everywhere including Smart TVs, MAC and Windows computers, can be uploaded and played at 720 60p in Youtube, Facebook, Instagram, etc…
Every MiniDV tape became a separate mp4 file and was labelled by number. As a result, the videos are now in order by date / number and all reside on 1 USB Hard Drive. The USB Hard Drive can be plugged into pretty much anything that has a USB port and a screen including a Smart TV, MAC or Windows Computer. The video files appear like a Netflix menu and can be played, shared or edited!  Read More
FAQ:
Should I order the HD 720 60p Upres?  
Yes, by having us upres your video to HD 1280x720 60p, your video will look better on our modern TV and computer screens. Since your original tapes were meant for an old 4x3 interlaced tube TV, and modern screens are pretty much all 1080p or 4K, there will be some jagged edges and loss. By having us create a 720 60p upres, we can separate each field into a full frame (60p) which results in smooth motion and eliminated jagged edges. Furthermore, HD 720 60p is a standard resolution so you will be able to edit, play and share! You can read more about our HD Upres Add On Here
Will I be able to Edit these mp4 files on a MAC or PC?   
Yes, yo can edit these files on just about any video editing application such as iMovie, Final Cut, Adobe Premiere, Movie Maker, etc...  
Can I upload these mp4 Files to Youtube, Facebook, Vimeo, etc...?  
Absolutely! MP4 files are perfect for sharing online as they have become the most popular / compatible file for sites such as Instagram, Facebook, Youtube, etc... Most of these video sharing sites require mp4 files.  
What is the Quality difference between mp4 vs Quicktime & AVI?  
AV workshop offers uncompressed Quicktime and AVI files which yield the absolute highest quality available. However, the mp4 files we create look Amazing as we Maximize bitrate at 10/MB per sec and utilize the power of the h.264 codec. As a result, most people can't see the difference.  
Is an mp4 file the same thing as a thumb drive / flash drive?  
mp4 refers to the type of file that we would place onto a storage device such as a thumb drive / flash drive / hard drive. The drive is simply the storage device which holds the file(s).
How do I use a Flash Drive to view my files?
We have a step by step guide here.
Can I watch these files on my TV?  
Yes these mp4 files will playback on your TV from the Flash drive or Hard Drive as long as the drive is formatted NTFS (not HFS+)  
Do you supply the Hard Drive or me?  
We can use your external hard drive as long as there is enough room and it an external USB hard drive formatted NTFS (Windows)or HFS+ (MAC). We cannot put these large files on a drive that is formatted FAT32. Also, we can sell you an external hard drive. We typically stock a variety of Flash drives and external Hard Drives.  
Can you convert a PAL videotape?  
Yes we can. PAL conversion to NTSC (the american TV standard) costs an extra $15.  
What if my tape is blank?
Due to the labor involved in checking if a tape is entirely blank, there will be a flat fee of $10 for blank tapes.
How many video tapes fit onto a Hard Drive?    
Approx 140 hours of  video  will fit on a 1 TB drive in the mp4 file format.  
If you provide my drive, how many drives will I receive?
You will receive one single drive that all your media will fit on! We carry 16gb all the way through 2TB
How much space do I need on my flash drive or external hard drive for my videos?  
For mp4, 1 hour equates to approx. 6 GB and 2 hours is roughly 12 GB. Please be conscious of the amount of space you have on your hard drive.
AV Workshop is conveniently located on Woodside Rd. in Redwood City of the San Francisco Bay Area
We accept walk-ins as well as shipments. All online orders over $200 qualify for FREE round trip shipping! To learn more Click Here.
You can get an Estimate or Order online by clicking on any service page above.
Note: If you prefer to speak with someone in person, call us during store hours at 650-369-4366
New Store Hours:
Tue. thru Fri. 11am - 6pm
Sat. 10am - 1pm