BRING YOUR MEMORIES BACK TO LIFE!
PHOTOS TO DVD / SLIDES TO DVD




PHOTO VIDEO KEEPSAKE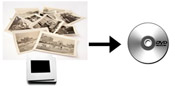 Audio Video Workshop can edit your photos to DVD and your photo slides to DVD! Using digital video editing equipment and high quality scanners, we can edit your pictures to music, allowing them to tell a story. A Photo Video is a great way to preserve and protect your memories! By transferring your photos to DVD or your slides to DVD, you will give them a new life. No longer will you have to dig out that old photo album or slide projector and screen to explain every picture to people who are in a hurry. Instead, just pop in your new DVD slide show and sit back and relax! Everybody enjoys the convenience and excitement of watching a DVD. The best part is, now everyone can have a copy of those priceless moments! Photo Video Keepsakes make a great gift (Christmas, Graduation, Birthdays, Bar Mitzvah, etc…) Whether it's a wedding photo montage, a family keepsake video, or any type of picture collage from any type of event – Let Us Preserve and Protect Your Precious Memories to DVD!
Types of Photo Video Keepsakes
Anniversary Photo Video
Birthday
Bar Mitzvah

Wedding Photo Video
Family Keepsake Video
Quinceanera
Makes a Great Present
Birthday
Anniversary
Valentines Day
It's as easy as 1, 2, 3
1. SELECT
First – select the photos that you want to include in your photo video.
2. SORT
Next – organize your photos into categories and put them in chronological order. For example, if you want us to create a picture montage for a wedding, categorize the photos into three sections one for the bride, one for the groom, and one for the bride and groom together pictures, putting all of them in chronological order.
3. NUMBER
Then, simply number the back of each photo with a soft pencil or sticky note. DO NOT use a pen or sharpie as the ink may bleed onto the next photo when stacked. Finally, think of music to go with each section and a title to introduce and or end the DVD slide show.
Every Photo Video / DVD Slideshow Includes:
Personal consultation to exchange ideas and ensure your satisfaction!
Enhanced scanning (including dust removal & color correction)
Soft dissolve transitions between images
2 Titles or captions (white on black)
Custom DVD main menu (1 page)
Your choice of music (fee applies if we download or digitize it for you)
DVD box case with personalized cover and DVD label
JPEG CD with your high-res photos / slides saved @ 300dpi JPEG
Package

Photos

Approx. Length

Song Limit

Price

1

up to 50

5 min.

up to 3

$195

2

up to 100

10 min

up to 6

$250

3

up to 150

15 min.

up to 9

$295

4

up to 200

20 min.

up to 11

$350

5

up to 250

25 min.

up to 14

$395

6

up to 300

30 min.

up to 17

$450

7

up to 350

35 min.

up to 19

$495

8

up to 400

40 min.

up to 21

$550

9

up to 450

45 min.

up to 22

$595

10

up to 500

50 min.

up to 24

$650

11

up to 550

55 min.

up to 26

$695

12

up to 600

60 min.

up to 28

$750
PRICING: Photo Video / DVD (includes enhanced scanning)

EXTRAS:
| | |
| --- | --- |
| SERVICE | PRICE |
| Insert Video Clip (1min or less) | $9 each |
| Additional Titles | $9 each |
| Titles with Motion Background | $15 each |
| Scrolling Titles | $39 and up |
| Damaged Photo Restoration | $10+ each |
| Pan & Zoom Effect | $10 each |
| Additional DVD Menu Authoring (1 hr min.) | $110 per hr. |
| Download or Digitize Song | $10 each |
| Audio / Video Recording (1 hr min) | $110 per hr. |
| Audio / Video Editing | $110 per hr. |
| DVD Copies | |
| VHS Copies | |
AV Workshop is conveniently located on Woodside Rd. in Redwood City of the San Francisco Bay Area
We accept walk-ins as well as shipments. All online orders over $200 qualify for FREE round trip shipping! To learn more Click Here.
You can get an Estimate or Order online by clicking on any service page above.
Note: If you prefer to speak with someone in person, call us during store hours at 650-369-4366
New Store Hours:
Tue. thru Fri. 11am - 6pm
Sat. 10am - 1pm