Need Help Organizing your Home Movies?
WARNING: Using Old Film Projectors might Destroy your Films!
Let AV Workshop Create a Reference DVD so you can View and Organize your Family Films (Risk-Free) Today!
Many of our customers are overwhelmed by having their family's 8mm, 16mm or Super 8 films transferred because they're unsure what is on them and / or do not know the order of them. Customers always ask us about using, renting, or even buying a film viewer or projector to see their films before they have them transferred.
AV Workshop has an easier digital solution. We offer the unique option to view and organize your family's precious memories with a Reference DVD where each reel is a unique chapter on the disc. We will explain that in detail later, but first here are just a few reasons why we do not offer or recommend that you preview or watch your old films on projectors or viewers.
Audio Video Workshop does not recommend using projectors or viewers because…
1.) RISK OF BURNING THEM – FIRE
Film projectors use incandescent bulbs, which run hot and can burn your brittle film. Since your film is old, dry and brittle, it can easily be ignited burning your memories away…
2.) HARD TO FIND
Old working film viewers and film projectors can be very difficult to find and expensive. Even if you find one, most likely it will need a new bulb. However, projector and film viewer bulbs are specialized bulbs that you can't find in hardware stores. They will need to be special ordered.
3.) WEAR & TEAR 
Since your 16mm, 8mm or Super 8 films are now 30-50 years old+, they are most likely somewhat dry and brittle. Thus, threading your films onto a viewer or projector can create severe wear and tear on those extremely important sprocket holes.  Once the sprocket holes of your home movies are worn, they make the HD film transfer process difficult, for, the image may become unstable, flicker and even have film roll.
4.) BEYOND REPAIR
Playing your old films without the proper training can result in damaging your films so badly that they can no longer be transferred.
Let us help:
Here at AV Workshop we have trained professionals who take the best care of your family's memories. We start by cleaning your Super 8, 8mm, and 16mm film using an anti-static solvent, which cleans and lubricates your films for a smooth transfer that reconditions the film and sprocket holes. Also, we repair any faulty splicing or problematic areas. We add leader to the tip and tail of the film and put the films in order by date where possible.
Step 1: We clean and prep your Films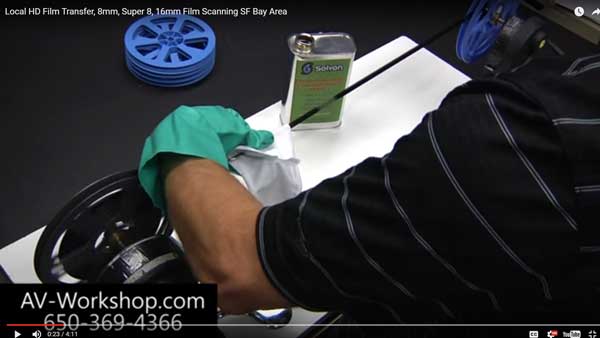 AV Workshop tech cleaning and prepping film before HD transfer
Once the films are cleaned and prepped, we scan your film frame by frame in full 1920 x 1080p HD, Our HD film scanners are the latest in film transfer technology and use a safe LED light source so there is no chance of burning your films. Once the films have been scanned, we can create a plug and play DVD where each and every one of your reels is a separate chapter on the DVD and is titled accordingly (see pic below). Therefore, you know what reel is currently playing. Also, since each reel is a separate chapter, you can skip / advance to the next reel using the DVD player remote control (or computer).
Step 2: We scan your films in order by date where poss and super impose the reel # on screen for you to preview from a reference DVD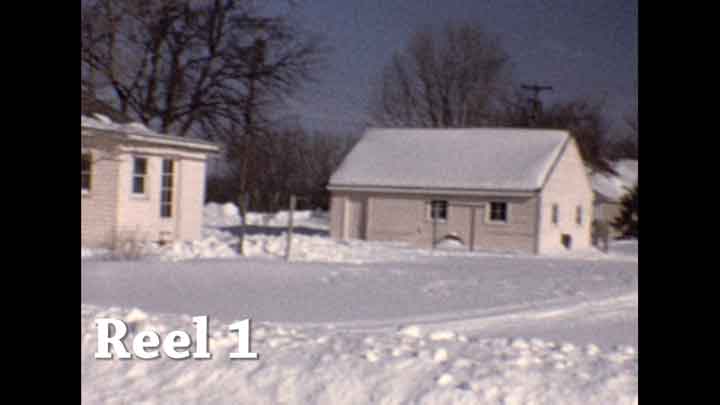 Reference DVD – each reel is a separate chapter on the disc with a Title over-layed on screen
You will also receive a reference DVD log, so you can log what is on each reel, allowing you to inform us of the new order you would like your films to be in on the Final export. We can export to DVD, Bluray (HD), or Digital file (HD). Since your films are scanned in high definition, we recommend that you have us export the final in high definition which is available in the form of a Bluray disc or high quality HD digital file (mp4 – h.264 codec @ 50mb/s).
Step 3: You watch the reference DVD and fill out the log to include the new order you would like us to use on the Final Output.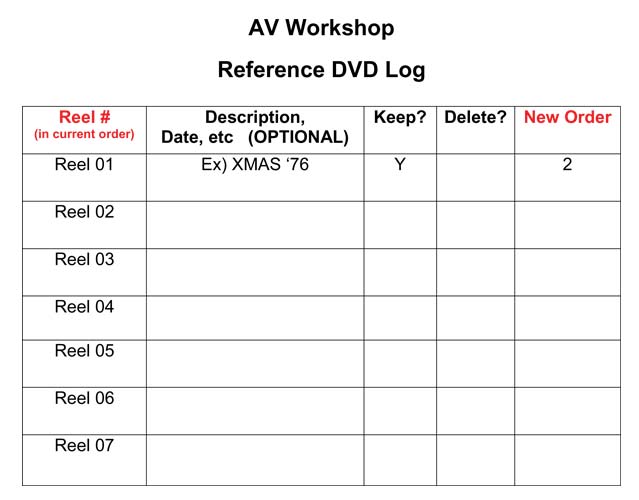 After you review the reference DVD, you can simply email us back the ref DVD log with the new order on it. We will then re-order your films and export them however you want. It's as easy as that!
In the end, your films will be in order and will look amazing in HD. You will be able to watch, share and relive those precious moments with family and friends.
AV Workshop is located in Redwood City of the San Francisco Bay Area / San Jose.
Step 4: We re-order your films and export them how you want them via DVD, Bluray or Digital file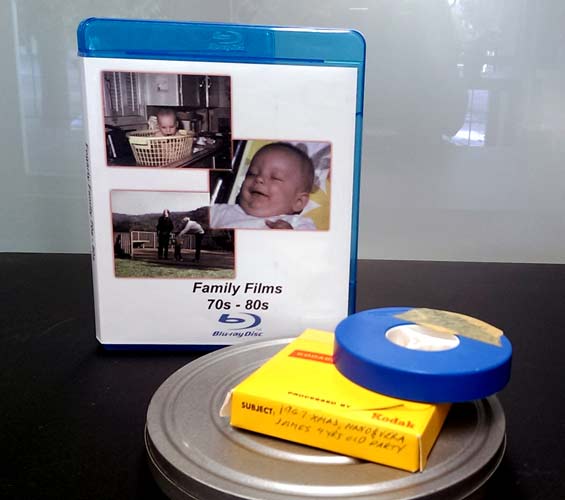 Makes a Great Gift for the Holidays!
Please check out the AV Workshop website  and give us a call, send us an email, or fill out the online quote tool to get started!
Audio Video Workshop
650-369-4366
mail@av-workshop.com
703 Woodside Road, #8
Redwood City, CA 94061