VINYL RECORD TO DIGITAL FILE / LP TO DIGITAL FILE TRANSFER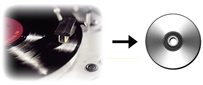 Audio Video Workshop can transfer vinyl records to mp3, WAVE, and CD / LP to mp3, WAVE, and CD transfer. Everyone loves the warm rich tone of our favorite record, but over time these recordings become fragile and degrade. We all miss placing the needle precisely in the groove, but every play actually results in a slight degeneration of sound quality not to mention the fact that many records simply cannot be replaced.
By transferring your records to Digital Files on a USB Flash Drive, you will protect your music from degradation and have all the conveniences of a file that can be copied, shared, and uploaded. Each record is handled with care and is only used once as a source for playback. We digitize and convert your records to mp3, WAVE, or CDs, so that you can listen to them on any laptop, computer, or CD player. Also, AV-Workshop can enhance your music collection during the LP to Digital transfer by optimizing the audio levels and reducing the noise which vinyl records are prone to have. Once the record is digitized, we can apply noise reduction filters such as crackle & pop removal as well as hiss & hum removal. Thus, your music will sound better than ever and will be there the next time you're feeling nostalgic! We also transfer audio cassette tapes to digital files. So, bring your music into AV-Workshop and Back to Life Today!