How to Use a USB Flash Drive to View Files
A step-by-step guide on how to copy, view, and edit your files using a drive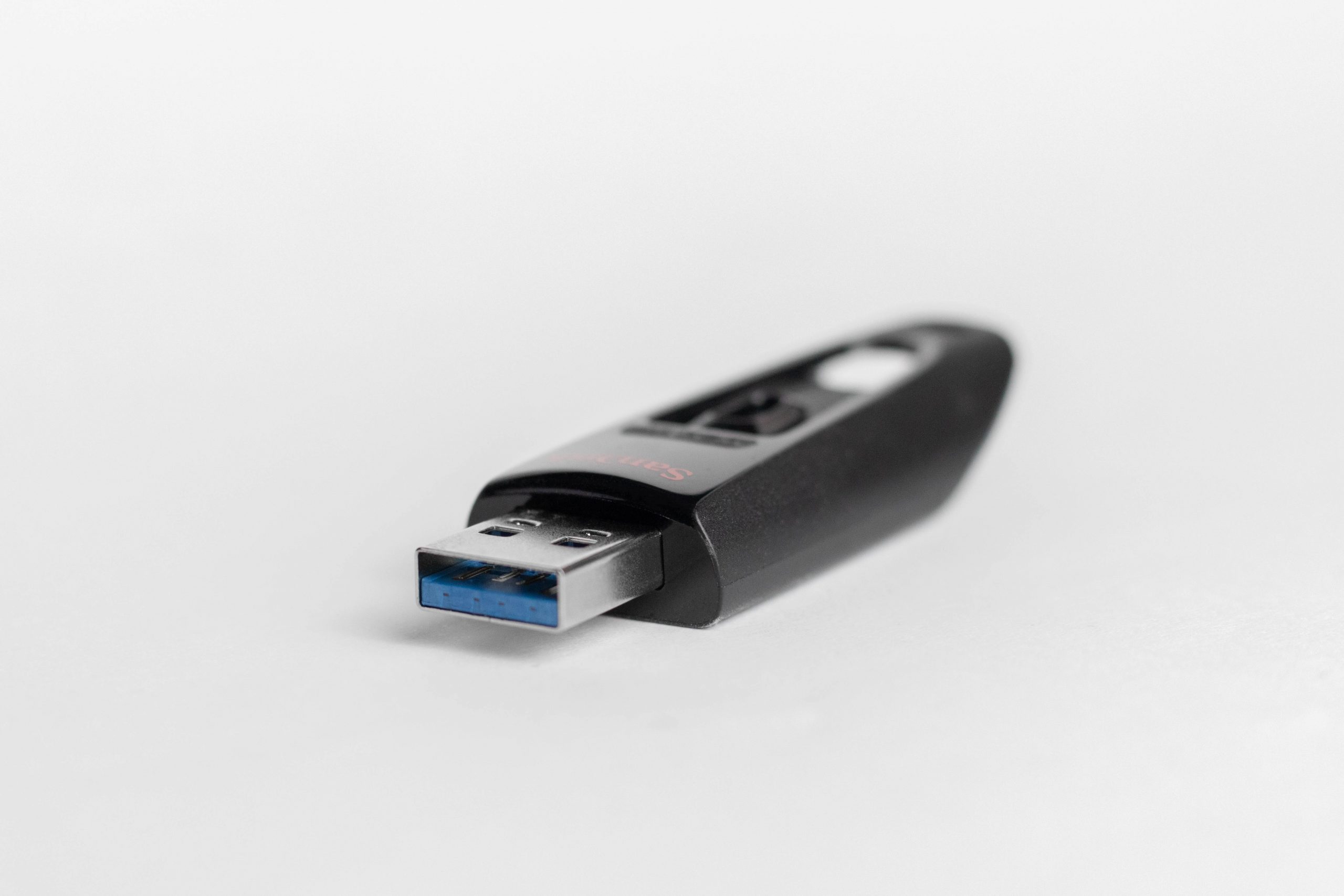 If you're new to the world of USB Drives, it may seem a little confusing at first. Luckily, it's a pretty simple process once you get the hang of it. This guide will help you learn how to use your USB Drive (also known as: Thumb Drive, Flash Drive, or Hard Drive) to view, send, and copy your files.
Step 1: Locate the USB Port
The first step is plugging your drive in. If you are on a windows desktop computer, the port will probably be on the tower. If you're on a laptop, the port will most likely be located on the side or back of the laptop.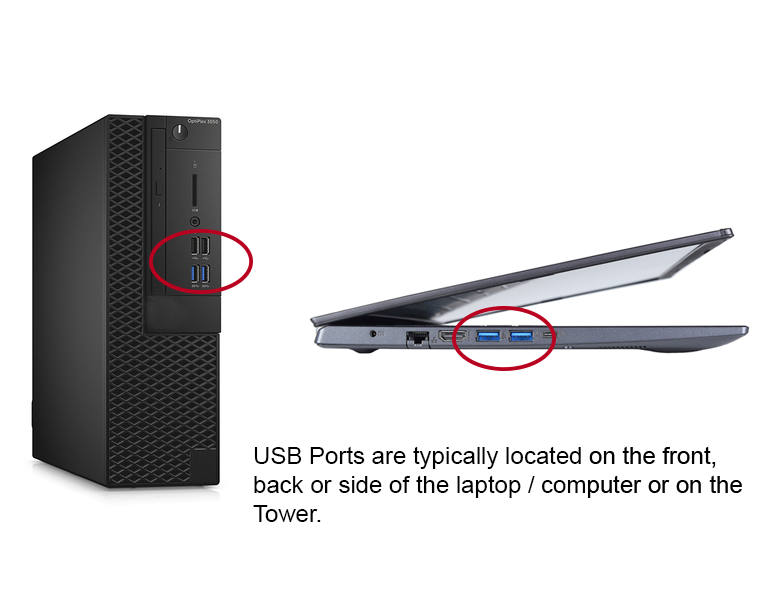 Step 2: Plug the Drive into the Port:
Once you locate the USB port you can plug your drive in.
Now, a pop up box may appear. If this is the case, select 'Open folder to view files'. This opens up the drive so you can see all your files that are being stored on the device. Some computers will skip this step and go ahead and open the drive folder which will show all your files. If your files have been organized into subfolders we created (Ex: Slides, Video, Negatives, Photos) you will see the subfolders first.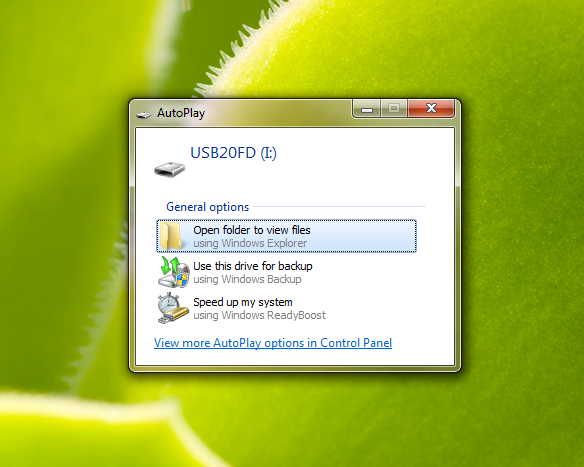 If a pop up box doesn't appear, don't worry. All you need to do anytime you want to access the drive while it's plugged in is locate the windows explorer icon on your desktop (manila folder icon). This is usually located in the bottom panel on your desktop screen.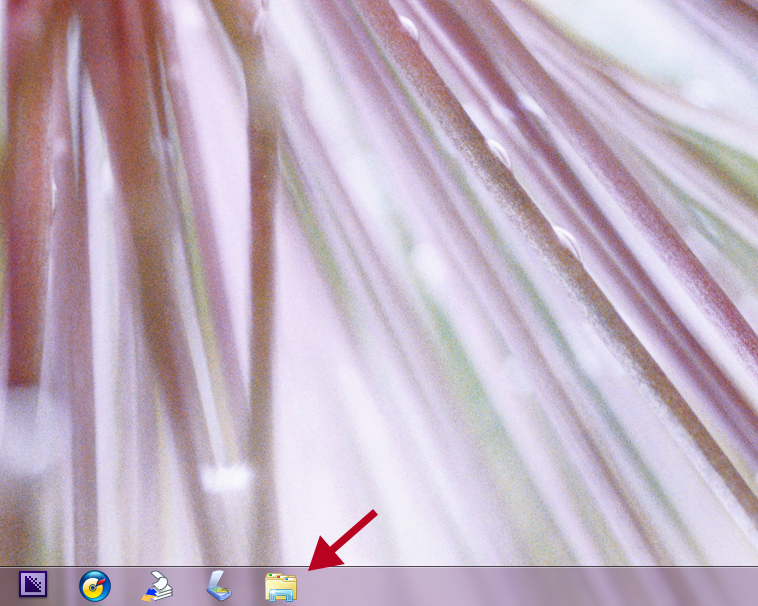 If it is not on the bottom panel, simply click the start menu in the bottom right hand corner (windows icon). Then look for the manila folder icon labeled windows explorer. If you're using a MAC, this will be the icon called 'Finder'. Click this once you locate it.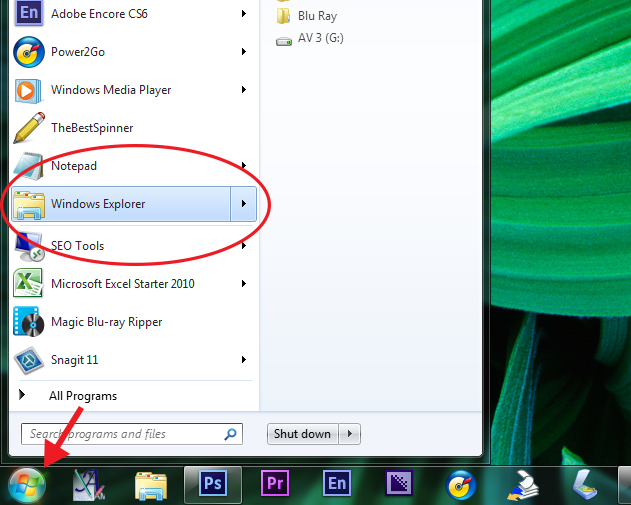 Once you've opened windows explorer, you can locate your drive on left column.
Now that your drive is plugged in, you can access it through windows explorer just like you would access other folders such as pictures, documents, desktop, downloads, etc.
When you click your drive, your files may be separated into subfolders. In the example above, there is a subfolder labeled 'Scanned Negatives'. This means all the negatives are in this folder. Double click the folder to access all the files. To go back, you can click the left arrow in the top left corner of Windows Explorer.
If your files are not separated into subfolders, feel free to go ahead and double click whichever file you want to view. This will open the image / video / document / etc.
*Note: The name of the Flash Drive may vary. In this example, the default name is USB20FD. At AV Workshop, we typically rename the drives with your last name (if it is a drive we are providing for you). Thus, you would see your last name as the drive name. Continue reading to find out how to rename your drive and/or drive files.
Step 3: Eject your Drive
In order to safely remove your drive, you need to first eject it. To do this, open windows explorer and right click on the drive in the left column.

Once you right click the drive, a menu will appear. Left click the option that says 'Eject'. Windows explorer may either close itself or you may get a pop up notification on the bottom left corner of your screen that says your device is safe to remove. Both of these mean it is now safe to remove your USB Drive from the USB Port.
More Info
To Back Up your Files:
Copy and Paste:
We always recommend that you make a backup folder of your files. This way if your drive gets lost or damaged, you have the files saved on another source. One of the easiest ways to do this is to drag a copy of the files straight onto your desktop. There are a couple ways to do this.
The first is to simply highlight all the folders or files located on the drive. To do this, begin by clicking drive name on the left column of windows explorer. Now, you should see all the subfolders or, if there are no subfolders, you will see the files here. Highlight all of these and right click, then choose copy. To highlight, you place your curser inside the white windows explorer box. Left click and hold down. While holding the left click down – drag your cursor over all the files / folders. You should see them all become highlighted.
Alternatively, you can hold down the shift key and, while holding, click the very first and last items. You should see everything become highlighted. Now, you can right click and hit the 'Copy' option.
If you don't want to copy them all at once, you can right click and hit copy on each folder or file one by one. After you copy the first one, go to your desktop screen and right click anywhere on the screen and hit 'Paste'. This should begin pasting the item(s) you've copied onto the desktop.
Drag and Drop
There is also the option to drag the files onto your desktop instead. Dragging is just a term used to describe moving or copying files to another location on your computer. Essentially, this is just another way to copy and paste.
To drag your files over to your desktop, start by highlighting all the folders or files again (this is to move everything at once. You can also select one folder or file at a time to move them individually). Once they are highlighted, left click anywhere on one of the highlighted items (it does not matter which one) and hold the click down. Now, while holding down the left click, drag your cursor to the desktop screen and let go. Your files should begin copying to your desktop.
To Rename your Folders or Files:
To rename, right click whichever folder or file you would like to relabel. Then select the 'Rename' option.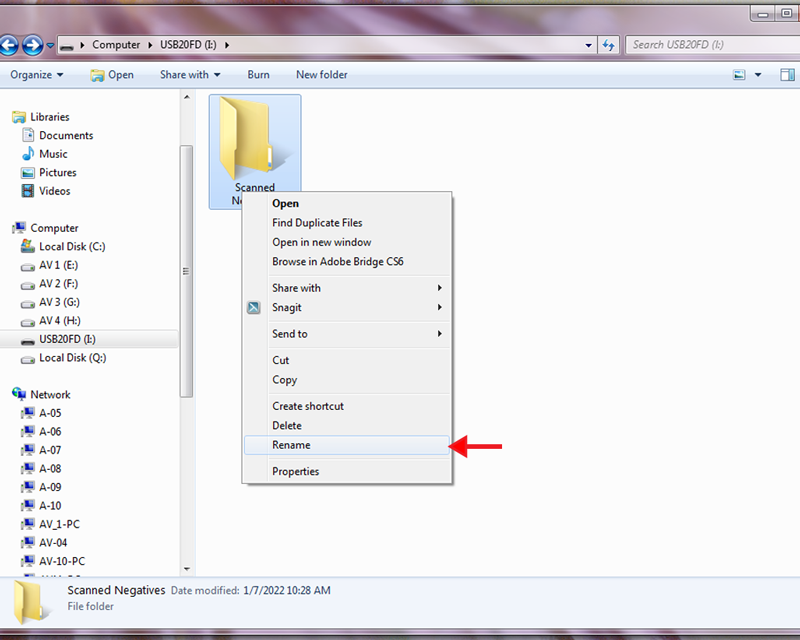 Now, you can type in the text box that appears and choose any name you want! When you're done typing just hit enter or click anywhere outside the text box. Now, your file or folder is renamed.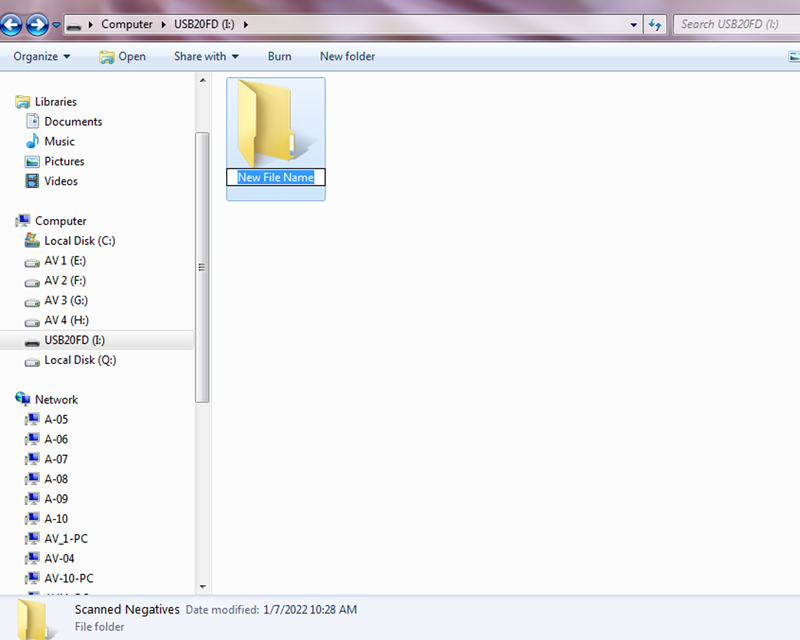 There you have it! Those are the basics of using a USB Drive.