Super 8 Film Transfer to DVD, Bluray or HD Digital File mp4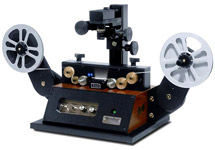 FACT: Half of all Super 8 movies made before 1950 are gone!
Don't let this happen to your old Super 8 films –
Let Us Transfer Your Super 8 to DVD or Bluray!
Audio Video Workshop now offers full Frame-by-Frame High Definition Super 8 Film Scanning. We can transfer Super8 film to DVD, 8mm film to DVD and 16mm film to DVD, Bluray or a digital file on a hard drive for editing. Our film transfers are done in house with the RetroScan Universal HD Film Scanner as well as the Sniper-HD Pro Telecine Scanning System. Every super 8mm frame of your film is individually scanned directly with an HD camera using a CMOS sensor and 3 million pixels! The gate on the scanner is enlarged to give us access to 100% of the film frame. Using a super bright and cool LED light source, we are able to provide rich vibrant colors with zero hot spot and no chance of burning your super 8 film.