100 Hours of Vintage Racing Videos Digitally Preserved
Customer's Personal VHS Collection Converted to DVD
Long time AV Workshop customer Bernardo M., brought in his distinguished Vintage Racing VHS tape Collection for transfer to DVD. Bernardo recorded these races every season over a 10 year period in the 1990s and 2000s. The VHS tapes were very special to him, for they documented some of the best Races of all time! These tapes were quite a challenge for AV Workshop as they were recorded in the EP (6hr) mode which can present a lot of quality issues such as a weak picture, video dropout, tracking errors, instability and noise. The AV team is always up for the challenge.

Our Video Transfer Process
1) Video Stabilization
AV Workshop uses S-Video cables which separate luminance and chrominance (Color from Light). Thus, detail / edges will be a s sharp as possible. The video is stabilized with a TBC to alleviate unstable video and create a rock solid image.
2) Audio Enhancement
On VHS we capture the normal audio channel instead of the Hifi channel as it is a dedicated audio channel and not disturbed from video dropout. Then, we raise the gain to approx -6db and apply noise reduction to sweeten the audio!
3) Video Editing
We trim the beginning and end of every video removing unwanted dead air / TV Snow. Thus, you only see the recorded portion of your tapes.
4) Encoding / Output
We maximize the bitrate of every DVD Transfer to allow the highest quality available.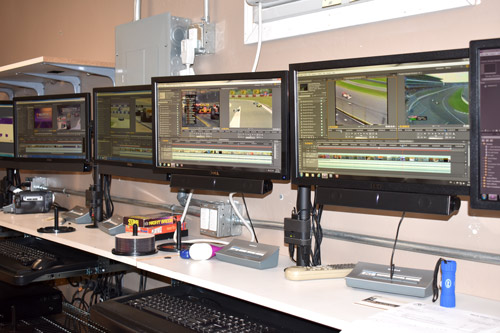 AV Workshop ran the precious recordings through our freshly updated video transfer equipment. Both AV machine rooms have recently been updated and are setup with a large number of high-end JVC S-VHS VCRs. These decks are the best playback source for VHS tapes, especially VHS tapes recorded in EP. High end JVC S-VHS decks have a built in TBC and Video Stabilization filter to stabilize a weak and unstable video. Once the videotapes were digitized, we applied Level Optimization and Noise reduction to the audio. Each video was then edited to remove unwanted TV snow, and irrelevant content from the beginning and end. Thus, every DVD is just racing!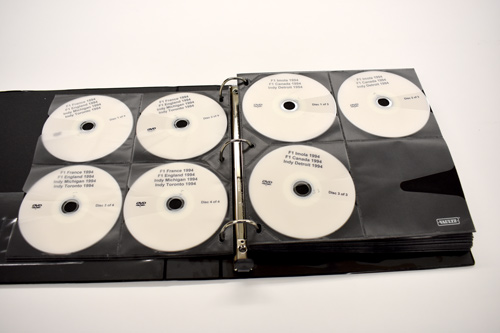 After the videos were edited, we created separate DVDs maximizing the bitrate capabilities of each disc to allow up to 2hrs of high quality content. We went the extra step for Bernardo, and tried to create a unique DVD for each Race where possible. Finally, the DVDs were labelled and consolidated into a convenient DVD Binder!

Do you have a Video Collection you would like preserved?
Check out our Video Transfer Service page for options and pricing. We also offer Video to Digital mp4 files as well.
Audio Video Workshop
650-369-4366
mail@av-workshop.com
703 Woodside Road, #8
Redwood City, CA 94061