AV Workshop Converts 300 Martial Arts Interviews to High Quality Audio Files
300 Audio Cassettes Transferred and Enhanced to Digital Files
AV Workshop recently converted a collection of 300 Aikido martial arts philosophy audio cassette tapes to uncompressed hi-bit rate digital WAVE files. Aikido is a martial art that prioritizes blending with an opponent's energy, using circular movements, and redirecting attacks. It promotes the idea of using minimal force to achieve control and emphasizes harmony, fluidity, and unity of mind and body. Aikido is not just a physical practice but also a philosophy that aims to promote peace and personal growth. This audio collection contained over 340 oral interviews of Japanese martial art philosophers on their philosophies and practices. This content will be used for books and other media in the future, so it was important for the tapes to be preserved in a high quality, editable format.
Our Transfer Process: Audio Cassette Tapes to mp3 / WAVE Files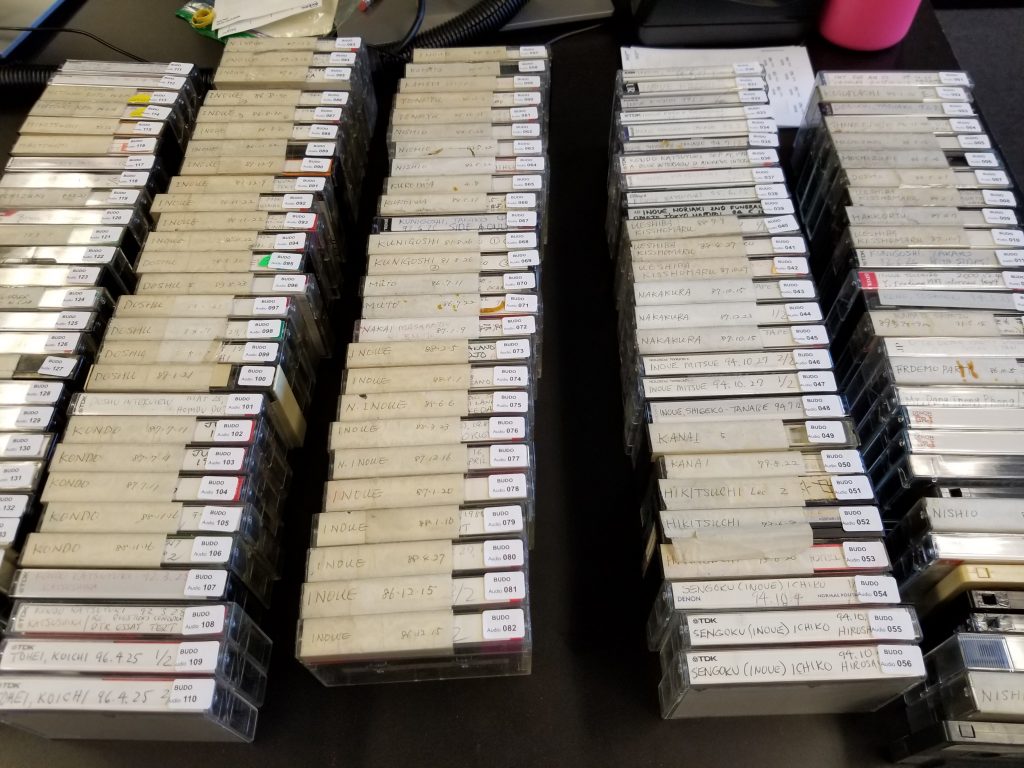 1) Audio Capture using Pro Equipment
Before playback, we cleaned, packed, and labeled all the tapes by number. We used professional grade Sony audio cassette decks for capture and ran the audio through high quality stereo cables into a pro audio workstation running Sony Sound Forge. Each tape was handled carefully and used one time only as a playback source.
Note: Tapes that need repairs are handled separately where we meticulously replace felts and make tape splices where needed on an audio splicing block. We also make sure to routinely service the heads of the cassette decks to ensure the audio is as clear as possible.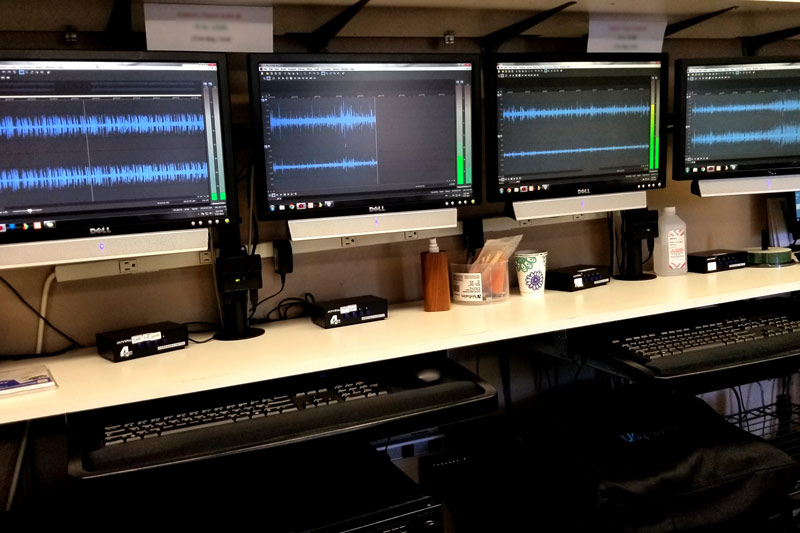 2) Level Balancing, Optimization, and Noise Reduction
We captured the audio at about -6 db, then applied level optimization to properly balance the levels at approx -6 db (the equivalent to 0 db analog). We then trimmed the beginning and end of every audio file to get rid of any extra static or dead-air that occured before and after the audio recording.
Add-on: AV Workshop offers and recommends adding noise reduction to your audio transfers. Digital Noise Reduction is a manual filtration process we apply custom to each recording to remove unwanted hiss and hum noises that analog recordings are known for. This is a subtle addition that helps to lightly clean up your recordings, as we don't want to alter or remove too much of the actual audio itself.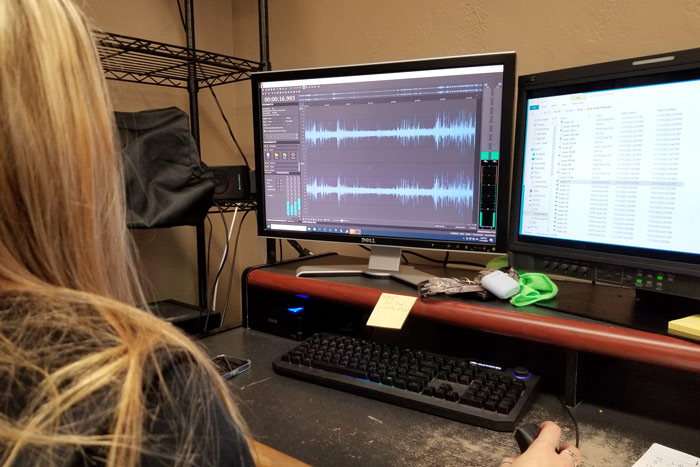 3) Output
AV output the audio recordings as high bit uncompressed WAVE files at 44 kHz / 16 bit – the industry standard for professional grade audio from analog sources. Since WAVE files are an uncompressed format, the audio file data is stored in its full original format – meaning there is no loss in quality. Thus, the final product was the highest quality possible! WAVE files are also great for editing as they are the most compatible uncompressed file type.
4) Labeling and Organization via USB Device
AV Workshop created a separate WAVE file for each cassette and labeled each file by number (corresponding to the numbers we labeled the tapes). We then dragged the files onto a USB Hard Drive. USB Hard Drives can be plugged into pretty much anything that has a USB port and a screen including a Smart TV, MAC or Windows Computer. The audio files are now preserved forever and can now be easily played, shared and edited!
Don't wait too long to transfer your audio cassettes!
Cassette tapes typically have a lifespan of 20 years before they begin to deteriorate past the point of no return.  A few factors that can cause degradation in older tapes include the use of a less stable chromium dioxide coating and breakdown of the felt pressure pads on lower quality tapes. Tapes with recordings on both sides can also be prone to deterioration as there is a risk of the magnetic fields bleeding through to each other! Don't risk your tapes deteriorating and have AV Transfer them today!
Do you have Audio Cassette Tapes you would like Converted to Digital Files?
Check out  our Audio to Digital Transfer page for options and pricing.
Audio Video Workshop
650-369-4366
mail@av-workshop.com
703 Woodside Road, #8
Redwood City, CA 94061