Photo Scanning Services
All Work done

On Site

– San Francisco Bay Area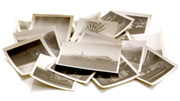 Audio Video Workshop can scan your photos into high-resolution digital computer files so that you can archive, reprint, email, share, and enjoy them all over again! We can scan your photos into any resolution requested. The most popular resolutions are 300dpi and 600dpi. Typically, we scan into high quality JPEG files due to their efficiency. However, we can scan your photos into whatever file type you prefer. We also offer photo restoration, slide scanning, negative scanning and photos to DVD (photo montage). We have options for everyone's needs and budget, so checkout the info below and don't hesitate to call us if you have any questions.
PHOTO SCANNING SERVICE PRICING
Loose Photos up to 5″x7″
300 DPI

ECONOMY SCAN

ENHANCED SCAN
(recommended)

1-499

.85
.89

500-999

.75
.79

1000-3499

.65
.69

3500+

.55
.59
600 DPI

ECONOMY SCAN

ENHANCED SCAN

1-499

.95
.99

500-999

.85
.89

1000-3499

.75
.79

3500+

.65
.69
$30 min. fee
Photo album extraction fee = .25 per image
TIFF file format available – add .25 per image
5"x7" up to 8.5"x11" – add .50 per image
How Many Pictures fit on a DVD? Click Here for Info

300 dpi vs. 600 dpi
300 dpi – 300 dpi (ppi) is great for on-screen viewing, archiving and making prints of photos at their original size
600 dpi – 600 dpi (ppi) is great for archiving your photos and is extremely important if you plan on zooming in or making prints larger than the original
Economy vs. Enhanced Scan
Both Services are done with the same scanning equipment and both yield high quality scanned images.
Economy – The economy Service is great for those who have the time, software, and knowledge to enhance the images themselves.
Enhanced – The enhanced scanning service offers:
• Dust Removal
• Slight Color Correction
• Brightness / Contrast Improvement
• De-skewing (image leveling)
• Picture Orientation Correction
---
*Please remove your photos from albums before bringing them in
All photos are scanned right here in the San Francisco Bay Area – Play it Safe / Keep it Local!
---

Photo Scanning FAQ
How should I prepare my photos for scanning? Please take them out of any albums and stack them in the order you would like them scanned. If you would like them organized into folders. You can put each category in a separate ziplock bag with a label / note inside. Another way to organize your photos is to put them into a shoe box with sticky notes dividing and labeling the categories. AV Workshop will then scan your photos in order into unique folders according to your labels…Disneyland '85, Camping '99, Italy 1978, Graduation 2001, etc…
Why choose AV Workshop? AV Workshop is a local company. We scan your photos right here so you don't have to worry about them being lost in shipment overseas! We use the very best scanners and have many years of experience working with various types of media and Photoshop.
My photos are stuck in old photo albums and will not come out. We can scan them in the album however, they will not look as good and will cost an extra .25 per picture.