100 Hours of 3/4″ U-Matic, Betacam SP, and S-VHS Tapes Converted to Digital Files
Bay Area Political Action Committee's Broadcast Videos Digitized to HD mp4 Files
AV Workshop recently transferred 100 3/4″ U-matic, Betacam SP, and S-VHS Videotapes to Digital Files for a local bay area political action committee. The Bay Area Municipal Elections Committee (BAYMEC) has been advocating for the civil rights of LGBTQ+ people in the San Mateo, Santa Clara, Monterey, and Santa Cruz counties since 1984. Several of the tapes BAYMEC brought to AV Workshop were 1980's broadcast recordings from Outlook Video – a monthly public access cable TV show which sought to amplify the creative voices of those in the local LGBTQ+ community. The content included interviews, commentary, highlights of local members, film reviews, discussions with healthcare professionals, and art surrounding the LGBTQ+ community. AV Workshop was happy to help convert and enhance these culturally significant tapes to HD mp4 Files so they can be preserved, edited and shared almost anywhere!
Three Videotape Formats:
U-matic: The 3/4″ U-matic tape was introduced in 1971 and became the professional standard for broadcast industry edit masters throughout the 1970's. These were the first tapes to make the transition from an open reel format to a cassette format.
Betacam SP: Betacam SP (commonly referred to as Beta SP) is another broadcast quality analog video format that was released in 1986. Beta SP tapes split the luminance and chrominance into alternating channels, which increased horizontal resolution to 340 lines. The increase in quality compared to U-matic tapes launched Beta SP into the spotlight as the new leading broadcast industry video format throughout the 1980's.
S-VHS: S-VHS, which stands for Super VHS, was released in 1987 as an improved version of consumer-level videotapes. The Super VHS increased the bandwidth that recorded the video signal. This allowed S-VHS to increase the resolution from 250 lines (VHS) to 400 lines (S-VHS).
Converting S-VHS, Betacam SP, and U-matic tapes to HD mp4 Digital Files: 

1) Professional Equipment / Capture / Stabilization
We used our industry grade Betacam SP, 3/4″ U-matic decks, and high quality cables to capture the videotapes into our editing suite. To capture the S-VHS tapes, AV Workshop used our high-end JVC S-VHS VCRs which have a built in TBC and Video Stabilizer to help control an unstable picture. AV also makes sure to routinely maintenance and clean the heads of the decks to ensure the audio and images are clear and not muddy.
2) Audio Enhancement
To enhance the audio, AV Workshop captured both the left and right audio channels and raised the gain to approx -6db. Lastly, we applied noise reduction to help improve the sound even more!
3) Editing
We removed any extra dead air at the beginning and end of each video. Therefore, your digital files will only be the recorded section of the tapes!
4) Output / HD Upres 720 60p 
We output the movies using the H.264 Codec (maximum bitrate of 20mb/s). AV Workshop applied our HD Upres option to these tapes – meaning we increased the resolution to 1280 x 720 60p. 60p allows us to convert the interlaced even and odd fields to become 60 full frames per second. This helps smooth the motion in the video and create sharp edging detail. Now, the HD mp4 Files can be played, uploaded, and shared easily and almost anywhere (Windows, Mac, Smart TV, Youtube, Facebook, etc…). HD mp4 Files are also compatible with most editing software including Adobe Premiere Pro, Final Cut, Sony Vegas, etc…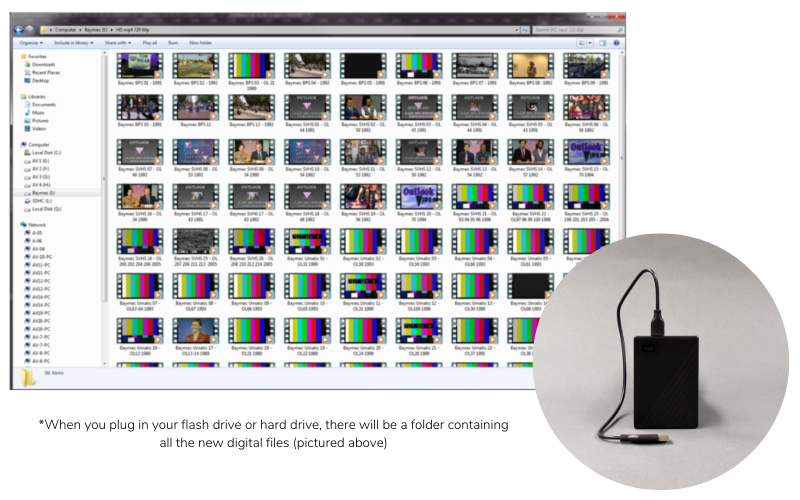 Now, the files are preserved forever and organized onto one single hard drive!
Learn More about BAYMEC and Outlook Video
Transfer your old movies today!
If you have tried playing your videotapes and notice they make a screeching sound, it's possible they've developed sticky-shed syndrome. This is something that we found with a few of the 3/4″ U-matic tapes. Sticky-shed syndrome occurs when the binders on the magnetic tape have started to break down. Typically, you can identify this by a screeching or squeaking sound when you try to play your tapes. This deterioration causes the tape to stick to itself which prevents playback. Often, these binders can also absorb moisture (especially in humid environments) which prevents playback as well. Don't lose your tapes forever! Let AV Workshop transfer your memories to digital today.
Do you have Videotapes you would like Converted to Digital Files?
Check out our Video Transfer page for options and pricing.
Audio Video Workshop
650-369-4366
mail@av-workshop.com
703 Woodside Road, #8
Redwood City, CA 94061