Slide Scanning Service – SF Bay Area
All Work done

On Site

– San Francisco Bay Area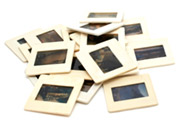 Audio Video Workshop can scan your slides into high-resolution digital computer files so that you can archive, reprint, email, share, and enjoy them all over again! We can scan your slides into any resolution requested. The most popular resolutions are 2000dpi and 4000dpi. Typically, we scan into high quality JPEG files due to their efficiency. However, we can scan your slides into whatever file type you prefer. We also offer photo scanning, negative scanning and photos to DVD (photo montage).). We have options for everyone's needs and budget, so checkout the info below and don't hesitate to call us if you have any questions. 650-369-4366



2000 DPI

ECONOMY SCAN

ENHANCED SCAN

(recommended)

1-499

.95

.99

500-999

.85

.89

1000-3499

.75

.79

3500+

.65

.69



4000 DPI

ECONOMY

SCAN

ENHANCED

SCAN

1-499

1.15

1.19

500-999

1.05

1.09

1000-3499

.95

.99

3500+

.85

.89
2000 dpi vs. 4000 dpi

2000 dpi – 2000 dpi (ppi) is great for on-screen viewing, archiving and making prints from your slides up to 5"x7"

4000 dpi – 4000 dpi (ppi) is great for archiving your slides and is extremely important if you plan on zooming in or making prints up to 10"x14″

Economy vs. Enhanced Scan

Both Services are done with the same scanning equipment and both yield high quality scanned images.

Economy – The economy Service is great for those who have the time, software, and knowledge to enhance the images themselves.

Enhanced – The enhanced scanning service offers:
• Dust Removal
• Digital Ice Restoration
• Slight Color Correction
• Brightness / Contrast Improvement
• Cropping of visible border
• De-skewing (image leveling)
• Picture Orientation Correction
TYPES OF SLIDES – SLIDE SIZES / MEASUREMENTS
35mm Slide

Super 35mm Slide

Half Frame 35mm

110 Format Slide

126 Format Slide

Frame Size
Frame Size
Frame Size
Frame Size
Frame Size
50mm x 50mm or 2″ square
50mm x 50mm or 2″ square
50mm x 50mm or 2″ square
50mm x 50mm or 2″ square
50mm x 50mm or 2″ square
Viewable Area
Viewable Area
Viewable Area
Viewable Area
Viewable Area
35mm x 24mm – 1 3/8″ x 15/16″
35mm x 28mm – 1 3/8″ x 1 1/8″
24mm x 18mm – 15/16″ x 1/2″
17mm x 13mm
26mm x 26mm – 1 1/16″ x 1 1/16″

Medium Format   120 / 220

127 Slide

Super 127 Slide

Stereo Slide

Frame Size
Frame Size
Frame Size
Frame Size
70mm x 70 mm – 2.75″ x 2.75″
50mm x 50mm or 2″ square
50mm x 50mm or 2″ square
41mm x 101mm or 1 5/8″ x 4″
Viewable Area
Viewable Area
Viewable Area
Viewable Area
 60mm x 60mm – 2 1/8″ x 2 1/8″
30mm x 30mm – 1 3/16″ x 1 3/16″.
38mm x 38mm – 1 1/2″ x 1 1/2″
Various
Add $1.00 per Slide
Add $1.00 per Slide
Charges are per frame

Slide Scanning FAQ
I don't know what's on my slides, do you rent slide projectors? No, we do not rent equipment.
How should I prepare my slides? Please extract the slides from carousels and band them in separate stacks of approx. 50. You can lightly band them using rubber bands and place them in ziplock bags. Also, you can put them into rectangular boxes like aluminum foil / plastic wrap boxes. If you would like them in order, please indicate which slide / stack you would like scanned first, second, and third, etc…
Can you organize my slides into folders on a DVD or flash drive? Yes, please label the stacks / boxes of slides accordingly with sticky notes. We will do our best to organise your slides into files and folders that make sense.
How long does 500 slides take? Depending on our current workflow, 500 slides usually takes approx 2 weeks for us to process, enhance and output.