VIDEO TRANSFER / VIDEO DUPLICATION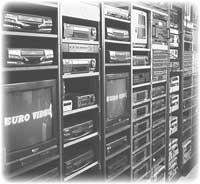 Audio Video Workshop provides video transfer services as well as video conversion and video duplication of any videotape format to play anywhere in the world including HD, HDV, VHS, VHS-C, S-VHS, 8mm, Hi8, D8, miniDV, DVCAM, DV, Betacam SP, 3/4″ Umatic SP, and even Betamax! Whether you need one video copy, or one thousand video dubs, you have come to the right place. We've been providing the San Francisco Bay Area with broadcast quality video transfer services for 25 years!
AV-Workshop is a small company that prides itself on quality control and customer satisfaction. Don't trust your masters & memories to bigger companies who care less about you and more about profit. Bring your media to AV-Workshop, where the person you talk to on the phone, or at the front desk is the person responsible for the preservation and duplication of your video. Recently we have expanded to include DVD Duplication and CD Duplication. Most jobs are done in 1 to 3 days.
Video Transfer – Let us Transfer your videos and VHS to DVD or Digital file for editing – Serving the San Francisco Bay area and San Jose.
VHS Duplication Prices
NTSC DUPLICATION TO VHS
| | | | | | | | | | |
| --- | --- | --- | --- | --- | --- | --- | --- | --- | --- |
| Qty | 5 min | 10 min | 20 min | 30 min | 45 min | 60 min | 90 min | 120 min | 180 min |
| 1 | $11.25 | $12.25 | $13.25 | $14.25 | $16.00 | $18.00 | $20.75 | $22.75 | $26.50 |
| 2-9 | $6.50 | $8.50 | $10.75 | $12.25 | $13.50 | $14.75 | $17.00 | $19.00 | $23.00 |
| 10-24 | $5.25 | $6.50 | $8.50 | $10.50 | $11.25 | $12.25 | $14.25 | $16.00 | $20.00 |
| 25-49 | $4.50 | $5.25 | $6.00 | $6.50 | $7.50 | $8.50 | $10.50 | $13.25 | $17.25 |
| 50-99 | $3.75 | $4.25 | $5.25 | $6.00 | $6.75 | $7.25 | $8.50 | $9.50 | $10.50 |

PLEASE CALL FOR A QUOTE ON ORDERS OF 100 OR MORE
Prices include Tape, Label & Sleeve
MiniDV Duplication Prices
| | | | | | |
| --- | --- | --- | --- | --- | --- |
| Qty | 10 min | 20 min | 30 min | 45 min | 60 min |
| 1 | $30.00 | $35.00 | $40.00 | $45.00 | $50.00 |
DVCAM Duplication Prices
| | | | | | | | | |
| --- | --- | --- | --- | --- | --- | --- | --- | --- |
| Qty | 10 min | 20 min | 30 min | 45 min | 64 min | 94 min | 124 min | 184 min |
| 1 | $40.00 | $45.00 | $50.00 | $55.00 | $60.00 | $75.00 | $95.00 | $125.00 |
NTSC to NTSC
BetaCam SP  Duplication Prices
| | | | | | | | |
| --- | --- | --- | --- | --- | --- | --- | --- |
| Qty | 5 min | 10 min | 20 min | 30 min | 45 min | 60 min | 90 min |
| 1 | $40.00 | $50.00 | $60.00 | $70.00 | $80.00 | $90.00 | $100.00 |

NTSC to NTSC