VIDEO COMPRESSION / VIDEO ENCODING SERVICES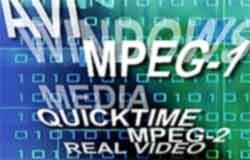 Audio Video Workshop can compress your video and audio to fit your needs. We offer streaming video services that enable you to put your video on the web or a server. Streaming video will allow the viewer to watch it immediately depending on the speed of their connection. We can encode your video to a streaming media file that will auto detect your viewers connection and give them the best possible quality without them having to wait for it to download. Streaming video can be compressed into various files to play in various players including: Windows Media Player, Quick Time Player, Real Networks, and MP3.
Constantly listening to the business and personal needs of our customers, we are now offering the latest in video compression and video encoding. Utilizing the H.264 MPEG 4 compression, we can give you twice the quality for half the file size. H.264 MPEG 4 is the perfect file format for uploading your videos to you tube. Also, we are now able to compress your video to a FLASH Video (FLV). We also offer video compression for CD and DVD. MPEG Compression is the best for this. By compressing your video to an MPEG I file, you can distribute it on a CD allowing anyone with a computer to view it. These CD's can automatically play or be clicked on for viewing. MPEG II compression is used for DVD and produces very high quality compression, but can also be used as a means to transfer video from one system to another for editing purposes. H.264 MPEG 4 offers excellent results for HD high definition video. We can create a 1920 x 1080p H.264 file for bluray, youtube, website, etc… Also, we can down-convert an HD video file to SD standard definition if needed.
Furthermore, we can digitize your videotapes to high quality uncompressed digital computer files so you can edit them the way you want on your computer! For the PC, we convert to AVI files and for the MAC, we covert to Quick Time files. Uncompressed AVI and Quick Time files yield the best quality and compatibility available. We can provide these files to you on an external hard drive that you simply connect to your computer via USB and start editing. Thus, you don't have to worry about buying expensive playback equipment or the long tedious hours it takes for digitization. By having us transfer your videos to a hard drive you will have the highest digital quality available as well as the most convenient  / compatible files for your editing software such as iMovie, Windows Movie Maker, Adobe Premiere, etc…
MPEG – MPEG II – MPEG 4 (H.264) mp4
Windows Media Video (.wmv)
Real Networks – Flash
Youtube – Facebook etc…

(charges are per tape)

MINUTES

PRICE

1 – 10

$39

11 – 30

$49

31 – 60

$65

60 – 90

$75

90 – 120

$95

some files
may require a $25 setup / upload fee (flash, mp4, youtube, facebook)


Volume Discounts Available – CALL
Uncompressed Editable
Digital Computer Files
Video to AVI (for the PC)
Video to Quick Time (for the MAC)

(charges are per tape)

up to 60min. AVI

$29

up to 120min. AVI

$29

up to 60min. QuickTime

$29

up to 120min. QuickTime

$29


External Hard Drive 1TB
Holds over 80 hrs uncompressed video

$85


External Hard Drive 2TB
Holds over 160 hrs
uncompressed video

$129

Pro format tapes – add $10
Volume Discounts Available – CALL