AUDIO CASSETTE TAPE REPAIR SERVICES
Bring Your Memories Back to Life!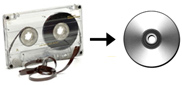 Audio Video Workshop provides audio cassette tape repair services. Whether your audio cassette tape is broken, wrinkled, twisted, has sticky tape syndrome or is stuck we can fix it and transfer it to CD!
By transferring your audio tapes to CD, you will give new life to those precious memories! Each audio cassette tape is handled with care and is only used once as a source tape for playback. We digitize and convert your audio tapes to CD, so that you can listen to them on any CD player. Also, AV-Workshop can enhance your audio recordings during the audio tape to CD transfer by optimizing the audio levels and reducing the noise which audio cassette recordings are prone to have.
Once the audio cassette is digitized, we can apply noise reduction filters such as hiss & hum removal as well as level optimization which raises the vocal level of the recording while limiting the overall level of the recording. Thus, your memories will sound better than ever and will be there for generations to come! We also transfer LP to CD / Vinyl Record to CD transfer. So, bring your memories into AV-Workshop and Back to Life Today!
Audio Cassette Tape Repair w/CD (60min)

$45 each

Audio Cassette Tape Repair w/CD (90-120min)

$50 each (requires 2 CDs)

Audio Hiss & Hum Removal with Level Optimization

$5

Track Separation

N/A

.MP3, .WAV, .AIFF, .WMA

$5 extra per file

CD Copy / CD Duplication

$10 each
We will try our best to repair your cassette tape, if unsuccessful; there will be NO CHARGE
Sticky tape syndrome (sticky shed syndrome) is included in the cassette tape repair (if needed) . Sticky tape can happen to audio tape within 15-20 yrs. It is a result caused by deterioration from the binder (glue) in magnetic tape, which contain the iron oxide covering to its plastic carrier. This deterioration makes the tape useless. Some types of binder are known to stop working overtime, due to the absorption of moisture (hydrolysis).
The signs of sticky tape are immediately obvious, for the tape will not play or rewind. Often the reels of the tape squeak or screech. We are seeing more video tapes come through our shop with the sticky tape syndrome. Please do not let this happen to your tapes; bring them into Audio Video Workshop before it's too late!
In the event that your audio cassette tapes have expired and have developed sticky-shed syndrome, there is hope. We might be able to rescue your precious memories by baking the tape. Baking temporarily restores the audio tape by driving the water molecules from the binder so that it can be quickly be transferred or digitized to a CD or digital file.