Convert Video to mp4 Digital Files
We Convert VHS, Hi 8, Mini DV, Betamax & VHS-C tapes to mp4 (h.264)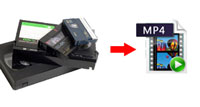 Audio Video Workshop can digitize your video tapes to high quality mp4 files. Mp4 digital video files offer excellent quality yet the file size is approximately half of uncompressed AVI and Quicktime files. Also, mp4 files are very compatible. Therefore, mp4 files can be played or edited on both MACs and Windows computers. Furthermore, they are the recommended digital file type for uploading to video sharing sites like youtube, vimeo, facebook, etc… In addition, most smart TVs and media boxes / media players (such as WD TV and Apple TV) require mp4 files. As a result, you can plug your hard drive (or flash drive) right into the smart TV USB port and watch your home movies instantly.
By having AV Workshop transfer your video tapes to mp4 files, you can edit your videos on any computer (MAC or PC). Since mp4 video files have become the most popular digital video file, just about any video editing applications will import them. Therefore, you can edit mp4 files in software such as iMovie, Windows Movie Maker, Adobe Premiere, Final Cut, Sony Vegas, etc…
Use the Shopping Cart below to Get an Estimate or Place an Order
Video to mp4 File
 

$25 per tape 
1 Tape (up to 2Hrs) transferred to mp4 (10mb/s)
– Watch anywhere (Smart TV via USB, MAC, Windows)
– Editable on any Computer
– HD upres 720 60p Now Available!
*please note:
– HDV, Betacam SP, DVCAM, & DVCPro tapes are an extra $15 per tape
– Due to the labor required to play and check tapes for content, there will be a flat fee of $10 for tapes that are blank
– T.V. recordings will be transferred up to 2 hours max and charged as normal
Mp4 Advantages over DVD Discs
Digital Mp4 files have many advantages over DVDs. Especially the mp4s that AV Workshop makes.
Mp4 files can be played on any computer (MAC or PC).
Mp4 files will play on Smart TVs from a USB device or network.
Mp4 files allow for better quality than DVDs.
Mp4 files created by AV, can be edited on any computer.
Mp4 files are YouTube, Facebook, Instagram and web friendly.
Since mp4 files are a file and not a tape or disc, they will not degrade over time and are not reliant on a disposable player.
Mp4 files be shared with family members easily via USB devices, Dropbox, Google Drive, etc…
MP4 files can be uploaded to a FREE (private) Youtube channel where you decide who can view them.
Our Video to mp4 file Transfer Process:
Professional Commercial Grade Tape Decks equipment used
Video Stabilized with TBC (Time Base Corrector) corrects wavy or jittery video signals
Luminance (Light) & Chrominance (Color) separated during Transfer Process – Results in Sharper Detail
Audio Level Optimization & Noise Reduction applied to audio
mp4 – High Quality / Compatible on both MAC & PC for Playback & Video Editing
Given that we use professional video equipment and the fact that we have an array of decks and machines, our video transfer quality is far superior to other businesses as well as if you attempted to do it on your own. Furthermore, we stabilize your video signal by running it through a TBC time base corrector using S-Video lines which separates the luminance (light) from chrominance (color). As a result, the edges of the detail in your video clip will be as sharp as possible. As soon as the video is transferred into our computers, we optimize the audio levels as well as apply digital noise reduction so your videos will  look and sound as good as possible and will be there for generations ahead!
We can transfer / convert VHS-C, Hi8, D8, 8mm, Betamax, DV, mini DV, DVCAM, 3/4″ Umatic SP, Betacam SP, HD, HDV and VHS!
HOW IT WORKS:
Enter the amount of tapes you have
Select which resolution you want (original or HD upres which looks Amazing!)
Select if you need a Drive or will be providing your own
Decide if you want to add playable DVDs to your order (1/2 price $10 each)
Add to Cart / Check out
Ship your tapes to AV Workshop, 703 Woodside Rd. #8, Redwood City, CA 94061
We will number each tape and digitize them into files
The files will be named Tape 01, Tape 02, etc…
We inform you that your project is ready or ship you your new Digital Files on a USB Flash Drive or Hard Drive, and original tapes
You plug the drive into your computer and enjoy your videos all over again!
These files can easily be edited on a MAC or PC with iMovie, Windows Movie Maker, Adobe Premeire, etc…
*If ordering DVDs as well, please attach a sticky note to each tape for label info or just include a note – label info: same as tape
*As of February 2021, Costco has discontinued its in-store home movie transfer services.
If you're looking for a new place to transfer and preserve your memories to digital – look no further. Here at AV, we offer all the high quality transfer services you need! 
Why choose AV instead of Southtree / Legacybox / Kodak Digitizing Box?  
While their websites are slick and the discounts and promo codes seem great – unfortunately, their customer testimonials are not. Southtree / Legacybox / Kodak Digitizing Box are all the same. All work is done in their facility located in Chattanooga, Tennessee. You can find numerous pages of 1 star reviews from families who were lured into the fancy marketing and discount codes but were either very disappointed in the actual transfer quality or simply never even got their cherished home movies back. You can click here to read these reviews, learn more, and even watch a video of an investigation Inside Edition conducted on the poor customer service practices of Southtree / Legacybox / Kodak Box.
HOW DO WE COMPARE TO LEGACY BOX / SOUTHTREE / KODAK BOX 
We are a small business
Our employees have degrees in this field!
We have been in business for over 20 years!
We use Pro Adobe Editing Software to Clean and Enhance your Video Transfer
We create High Quality Digital mp4 Files @ 10mb/s (not 2mb/s)
Your Video will look and sound better when we're done (not worse)
We do Not offer a Fancy Box
FAQ:
Should I order the HD 720 60p Upres?  
Yes, by having us upres your video to HD 1280x720 60p, your video will look better on our modern TV and computer screens. Since your original tapes were meant for an old 4x3 interlaced tube TV, and modern screens are pretty much all 1080p or 4K, there will be some jagged edges and loss. By having us create a 720 60p upres, we can separate each field into a full frame (60p) which results in smooth motion and eliminated jagged edges. Furthermore, HD 720 60p is a standard resolution so you will be able to edit, play and share! You can read more about our HD Upres Add On Here
Will I be able to Edit these mp4 files on a MAC or PC?   
Yes, you can edit these files on just about any video editing application such as iMovie, Final Cut, Adobe Premiere, Movie Maker, etc...  
Can I upload these mp4 Files to Youtube, Facebook, Vimeo, etc...?  
Absolutely! MP4 files are perfect for sharing online as they have become the most popular / compatible file for sites such as Instagram, Facebook, Youtube, etc... Most of these video sharing sites require mp4 files.  
What is the Quality difference between mp4 vs Quicktime & AVI?  
AV workshop offers uncompressed Quicktime and AVI files which yield the absolute highest quality available. However, the mp4 files we create look Amazing as we Maximize bitrate at 10/MB per sec and utilize the power of the h.264 codec. As a result, most people can't see the difference.
Is an mp4 file the same thing as a thumb drive / flash drive?  
mp4 refers to the type of file that we would place onto a storage device such as a thumb drive / flash drive / hard drive. The drive is simply the storage device which holds the file(s).
Can I watch these files on my TV?  
Yes these mp4 files will playback on your TV from the Flash drive or Hard Drive as long as the drive is formatted NTFS (not HFS+)  
Do you supply the Hard Drive or me?  
We can use your external hard drive as long as there is enough room and it an external USB hard drive formatted NTFS (Windows)or HFS+ (MAC). We cannot put these large files on a drive that is formatted FAT32. Also, we can sell you an external hard drive. We typically stock a variety of Flash drives and external Hard Drives.  
Can you convert a PAL videotape?  
Yes we can. PAL conversion to NTSC (the american TV standard) costs an extra $15.  
What if my tape is blank?
Due to the labor involved in checking if a tape is entirely blank, there will be a flat fee of $10 for blank tapes.
How many video tapes fit onto a Hard Drive?    
Approx 140 hours of  video  will fit on a 1 TB drive in the mp4 file format.  
How much space do I need on my flash drive or external hard drive for my videos?  
For mp4, 1 hour equates to approx. 6 GB and 2 hours is roughly 12 GB. Please be conscious of the amount of space you have on your hard drive.
How do I use a Flash Drive to view my files?
We have a step by step guide here.
If you provide my drive, how many drives will I receive?
You will receive one single drive that all your media will fit on! We carry 16gb all the way through 2TB
Our Location
Ship your media to AV Workshop, 703 Woodside Rd. #8, Redwood City, CA 94061
AV Workshop is located in Redwood City, CA of the San Francisco Bay Area.
Online orders over $175 qualify for FREE round trip shipping! To learn more Click Here.
You can get an Estimate or Order online above.
Note: If you prefer to speak with someone in person, call us at (855) 885-3456